Daycare program will focus on how color and light affect how we feel - the activity will
be to paint a paper plate with rainbow color scheme - violet-indigo, blue, green, yellow, orange, and red.
Summer = more light and more heat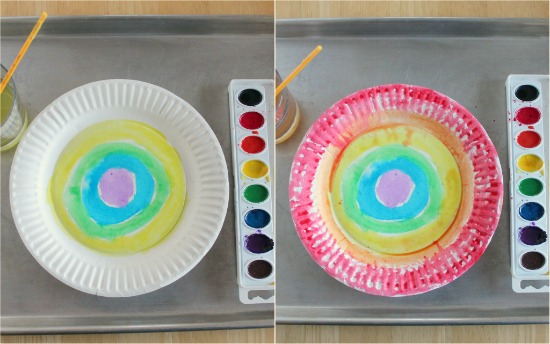 Kids work on motor skill development as first they create center circle in purple and then add
concentric rings of rainbow colors - rinsing brush out between colors. You can also let the kids
create a free-form picture with the paints on another plate.
Image credit: http://www.makeandtakes.com/wp-content/uploads/Painting-Rainbow-Paper-Plates.jpg
Cleveland Public Library Brooklyn Branch Library was recipient of Picturing America collection and the full size poster image of
Mary Cassatt's Boating Party is good start to program to explain concepts: cold-hot colors, left, right, time of day, direction of the sun, and horizon.
Featured books are subject to availability- but, popular new release: "The Day The Crayons Quit" by Drew Daywalt is an obvious choice for this program.
Pete the Cat - I Love My White Shoes by Eric Litwin is also a good storytime to use for this presentation.
Since we have been having very hot weather - One Hot Summer Day will also be good to feature : http://cpl.bibliocommons.com/item/show/164112048_one_hot_summer_day
Also explaining Light and Color - Light : A Question and Answer Book by Adele Richardson - part of the Fact Finders series - is very good!